These will be my last photos of this side of the wall for a while. I am done with this section of my loft.
Will do this rest of the loft over time. I need to 1st sort out where to put those empty boxes.
Still have my two MR AT-AT's and MR Millennium Falcon and other vehicles to display. All my Hasbro is still in boxes and I am going to build more shelves to accommodate them.
It be a few months before I get them all up on display.
Maybe then I invite forum members to my loft and see my collection.....he he.
I put in the mini bust on two rows of risers. Photos do not turn up well here.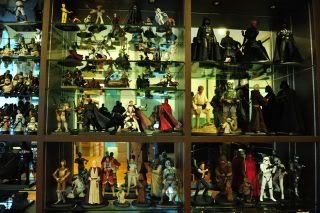 .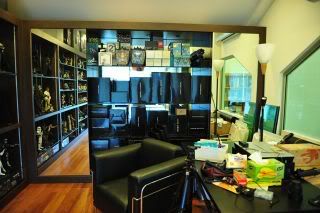 This is the section of the loft I will be working on next. Need to clear all the boxes and my Michael Lau Crazy Children Collection. What I put there will be all the MR Vehicles. Jabba & Gang (from Attakus and Sideshow)
I going to build more shelves on the right
Some of the pieces I posted on my blog @
http://mach16.blogspot.com/