Haldir wrote:
Jedi_slayer wrote:
Anyone know where to get a reusable beard. Must be a fake one not real hair as I can't imagine someone's hair stuck on my face, chin and below my nose.
Well, good quality or wider choice ones you can get from
No. 1 Costume Costume
at No. 32 Aliwal St.
Or go to
Magic Wand
at #03-02 Tanglin Mall and I think United Square and #03(??) Lucky Plaza. If lucky got the salesgirl that is knowledgeable, they may also help you get the fake beard if they have it at the other outlet.
If you are waiting till Oct, then can check out Toys R Us for the beard but they are mostly "Halloween" quality ones.
Haldir, thanks for the valuable info. Beard, beard come to Papa.
Jedi Healer wrote:
Jedi_slayer wrote:
Jedi Healer wrote:
PHOTOSHOP IS YOUR VERY BEST FRIEND! LOL yeah, it's not too difficult to do on Photoshop.
Healer, thanks I will get hold of a copy of photoshop and try playing with it too. I saw someone posted one of your photo with the blade slashing or swinging. Is that what you mentioned as Saber flashes?
Erm, not really, flashes are when one saber hits another saber. (ie. like
this
). Although, it only happens when two sabers hit at high speed, and not much when the sabers just touch each other.
Oh, understand now. CG can really do wonder!
Here are some photos I got to share...
1. Come and join the Rebels. We don't pay you or feed you....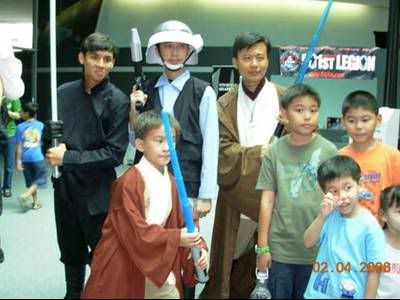 2. ...but we got cool uniforms.
3. Buy 1 Free 1
4. "Ask my phone again I will cut your tongue out"
5. "Psss, Redthumb, when Vader comes over, we will stick our legs out."
6. Lucky lady
7. "Long is better"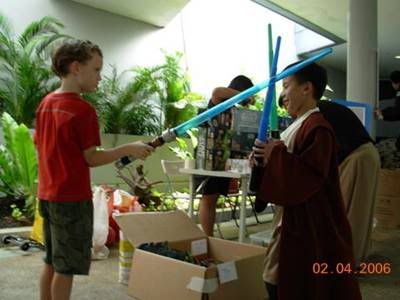 8. Say Peace!