I was one of the fortunate soul to receive the much sought after Master Replica
Darth Maul dual light saber
today and will be giving a complete pictorial guide and review on the light saber for knowledge and referencing. This article will be covered in 4 parts series as follows:
a.
box art and packaging / accessories
b.
instructions guide and assemby
c.
single blade review
d.
double blade review
...Let;s look at the official specification that MR has provided as follows: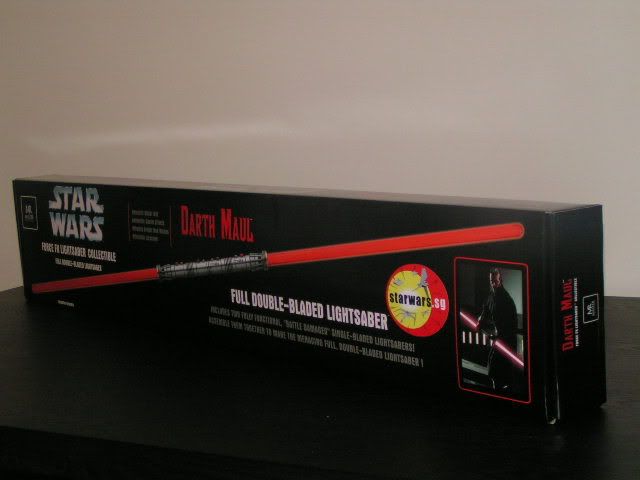 Features ( official specification details courtesy of Master replicas)
---------------------------------------------------------------------------------
1.five motion sensor controlled sound effects recorded from the movie: Power-up, idle hum, swing, clash, and power-down.
2.Blade has three built-in motion sensors for super sensitivity: 2 for detecting movement and 1 for detecting the impact of the blade.
3.Durable metal hilt looks and feels like a real lightsaber.
4.Sturdy blades are permanently attached to the hilt.
5.Can be assembled as a double bladed lightsaber or used as two, battle damaged, single blade lightsabers.
6.Approximate dimensions: 86" x 1.5"
7.Comes with a stand for tabletop or wall display.
8.Uses 6 AAA batteries (not included).
---------------------------------------------------------------------------------
Part 1 -
box art and packaging
BOX ART
Master Replica has the reputation for providing sturdy packaging for their products. The box that i have received is quality cardboard with semi gloss printing that is durable against fingerprints and watermark( the heavy rain in singapore today was a good test ). It is worth mentioning from the box that master replicas has took the effort to get customer feedback on improving the packaging in comparison with the earlier packaging release from the same productions.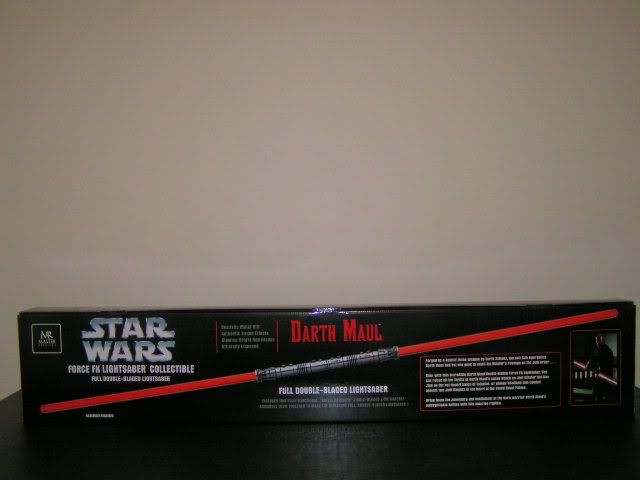 The box measured 1.2metre tall and approximately 50cm in width which is by far the largest packaging as well. Box art design is very informative with clear illustrations ranging from the origins of saber to safety instructions of using lightsaber which personally i applaud that it will attract even non starwars fan to stood by and read what is written.. wordings are clear and huge with words on blackground making it viewing friendly and can be served as instructions guides since i was hunting around for instructions guide which was attached to plastic base.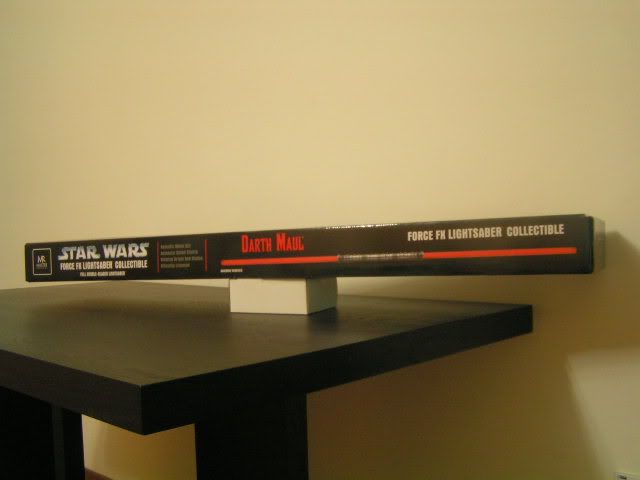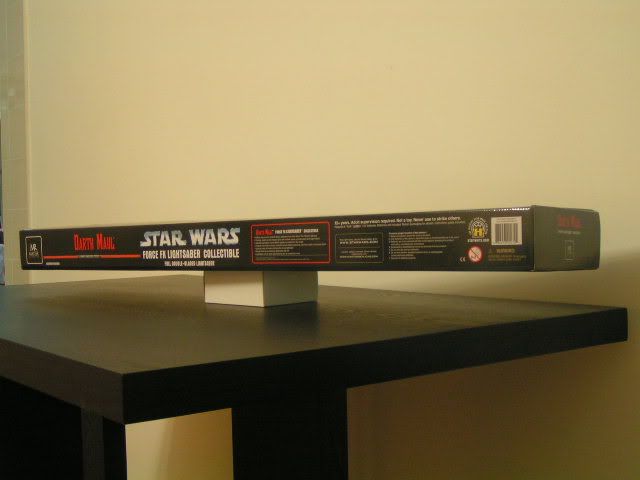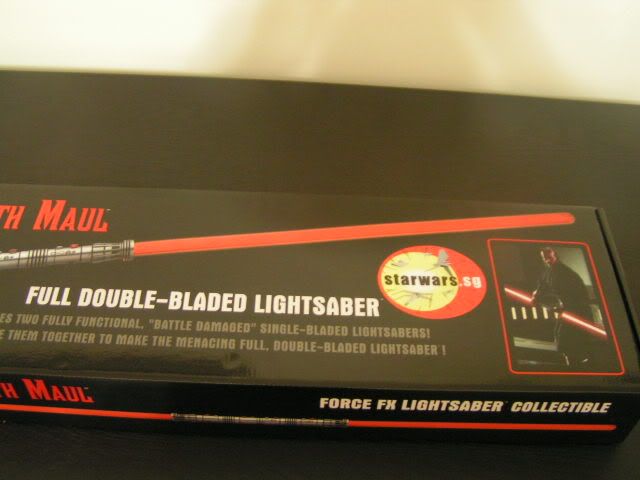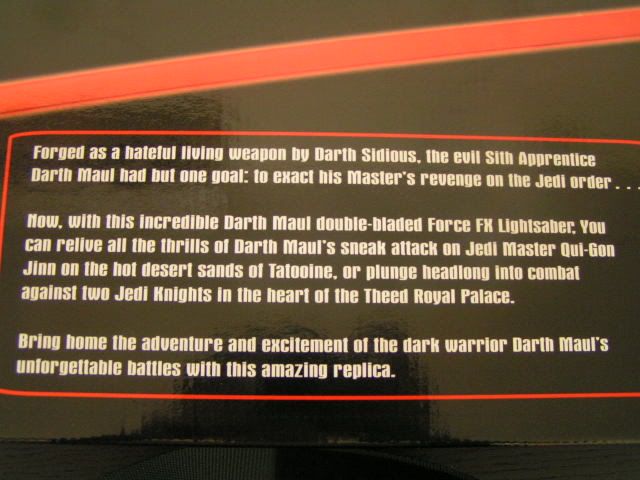 PACKAGING
when opening up the packaging, it review that light saber are packed in 2 separate packaging rather then rumour of come package as one complete saber as seen in the photo. Master Replicas have scored a plus point here that the box are open in lunchbox style and also there are stryo-foam insertion that prevent parts from dropping out and was sturdily secured since the weight of the 2 light sabers are heavy approximately 500g in weight in total. Packaging of clear plastic sheet is standard. A surprise which has not been illustrated even in official MR website is that for double blade version it comes with 2 stands instead of rumoured one stand which are good news for collectors that have space constraint.
The packaging consist of the following:
a.battle damaged version light saber - x 02
b.allen key to be used for the coupling - x01
c. connector for combining both saber into a completed version - x 01
d. starwars stand with 2 clear plastic stand attachees - x 02
e. instructions leaflets for construction of starwars stands and connectors guide - x 02
f. registration mailback PO card - x 01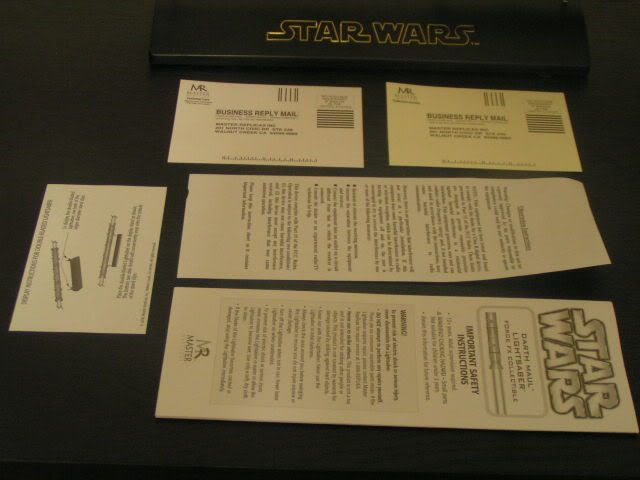 Interesting note that the stand is design to hold only for one battle damaged version saber . MR suggest that if you need to house the completed dualblade version, you can use the larger curves plastic standees to be fixed into the stand...and what to do with another stand? It definitely didnt went to waste which i have used it to house a SW toy blaster which works equally well. ( pic to be available soon ) so nothing is gone to waste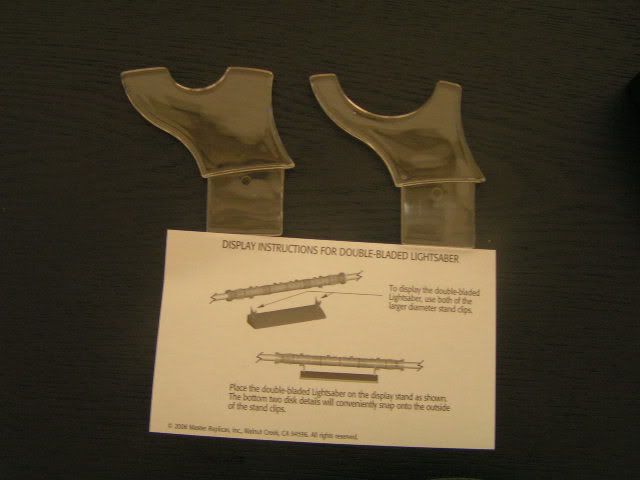 The instruction leaflets is found in one of the starwars stand package if you happen to search the box for the first time.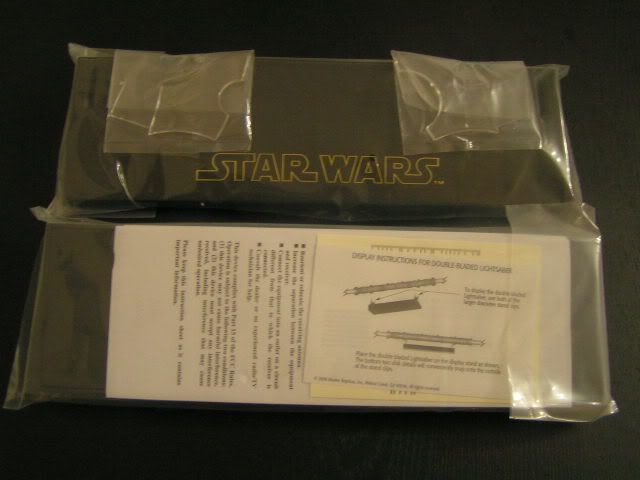 Thats all for part 1 for now...do watch out for the same thread for part 2 of instructions guide and assemby
teaser ...dark force arising.......