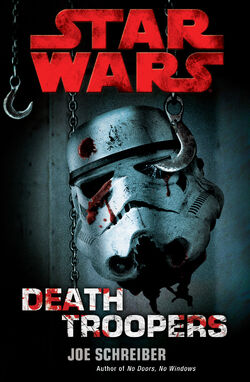 Death Troopers is an upcoming novel by Joe Schreiber that will be released on October 13, 2009
From the first appearance of Darth Vader in the groundbreaking movie Star Wars Episode IV: A New Hope, Star Wars fans have known what terror feels like -- and they loved it. But never before has Star Wars publishing ventured into the unknown territory of true horror . . . until now.
When the Imperial prison barge Purge breaks down in a distant, uninhabited part of space, its only hope seems to lie with a Star Destroyer found drifting, derelict and seemingly abandoned. But when a boarding party is sent to scavenge for parts, only half of them come back -- bringing with them a horrific disease so lethal that within hours, nearly all aboard the Purge will die. And death is only the beginning.
For aboard the Star Destroyer, amid its vast creaking emptiness that isn't really empty at all, the dead are rising, soulless, unstoppable, and unspeakably hungry.
_____________
This is the frist time I seen this kind of cover for star wars